The (Delicious) Road to Your Best Health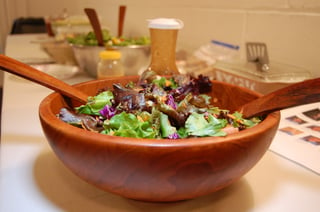 'Let food be thy medicine and medicine be thy food.' – Hippocrates
Want to lead a healthier, more active life? Eating more plants is a good place to start, especially considering Penn National is located in the same fertile valley that supplies produce to the farmers markets in Washington, D.C. Whether you've got a green thumb, love to eat well, or are interested in enjoying vibrant health, Penn National is the ideal place to pursue your passions.
Once a year, Penn National sponsors the Healthy Eating Adventure, open to all residents as well as the community at large. This community-based program inspires a lifetime of better health through whole-food, plant-based eating, designed to heal the body and help people bolster their heart health and overall wellness.
Penn National developer and healthy-eating advocate Patti Nitterhouse shares more about the Healthy Eating Adventure as one of the ways residents are making life-enhancing changes to live the healthy, active lifestyles of their dreams—starting with what's on their plates.
How does the Healthy Eating Adventure appeal to Penn National residents?
Patti: People come here because they want to start living a healthier and more active lifestyle. So many people who move to Penn National have been working hard their whole lives, and maybe haven't had time to take as good care of themselves as they would like. The Healthy Eating Adventure shares cutting-edge medical and health information to help people take control of their health. The Adventure gives people a chance to learn and share meals while getting to know their neighbors.
"The foods you consume can heal you faster and more profoundly than the most expensive prescription drugs and more dramatically than the most extreme surgical interventions, with only positive side effects."
– T. Colin Campbell, Professor Emeritus of Nutritional Biochemistry at Cornell
What are the components of the Healthy Eating Adventure?
Patti: For people who are interested in trying out the program, week one kicks off with a lecture from founder Dr. Elizabeth George and a plant-strong dinner. Week two is our "Kitchen Makeover" with Coach BJ. Weeks three through six, we host potluck dinners with a graduation celebration dinner for the final week. The potlucks are a fun way to share new food ideas, and make new friends.
Each participant gets a coach who takes them shopping, answers phone calls and works with them at the weekly potlucks. We do blood work before and after the program to show the change diet can make in blood sugar, cholesterol and weight. The program also includes the Caldwell Esselstyn book Prevent and Reverse Heart Disease. We've seen life-altering, and in some cases, life-saving, changes. With a plant-strong diet, I see people become fit, beautiful and alive in a way that no medication can do.
How does the program fit into daily life at Penn National?
Patti: Many of the residents here love community gardening and growing food as a way to make a daily connection to nature in beautiful surroundings. I'm a foodie and I revel in the experience of growing and preparing my own food, and the tactile connection to the beauty of tomatoes and beets, kale and spinach. We love to cook as a family, so when we entertain, our guests cook with us. They chop, they prep, they're engaged in food in a way that's visual and kinesthetic.
How has the program changed your habits?
Patti: It's made my life easier because I can keep the right foods in my kitchen so I'm never without a nutritious meal... and I can eat as much as I want, because this food is so healthy! This weekend, I made a curried cauliflower soup, a carrot sweet potato ginger soup (see recipe below) and a 3-bean chili with peppers from the garden—along with enough rice, quinoa, sweet potatoes and red potatoes for the week. All the food I need for my week is premade and ready to go. You learn about new foods, you learn cooking and preserving tips, and you make friends. Anybody who wants to come to the program: it's open. You meet people you'd never otherwise meet. It's so nice to be able to share food and health with the community at large.
Change your diet, change your life. As with any major change, the right kind of guidance at the starting line can make all the difference to long-term success. Learn more about the Healthy Eating Adventure today or request a free online brochure for more information about what the Penn Nationalfor more information about what the Penn National community has to offer.
------
Healthy Recipe: Carrot and Sweet Potato Soup with Ginger & Coriander
Taken from: TalesOfAKitchen.com but modified for Healthy Eating Adventure rules
Cook time: 30 mins
Total time: 38 mins
Serves: 4-6
Ingredients
1 medium onion, chopped
2 Tbsp. finely minced fresh ginger root
3 big carrots, peeled and cubed
1 big sweet potato, peeled and cubed
3 cups stock (plus more water if needed)
1 Tbsp. ground coriander
Sea salt, to taste
Freshly ground black pepper, to taste
Chili flakes, to taste
2 garlic cloves, finely grated
Serve with freshly ground black pepper and some fresh coriander
Instructions
In a big stockpot, cook onions over medium to high heat until translucent.
Add ginger and cook for 30 seconds.
Add carrots and sweet potato and cook for 1-2 minutes, stirring.
You can use a few teaspoons of water to keep the vegetables from sticking to the pot.
Add stock (and more water if needed to cover the veggies) and bring to a boil. Once it's boiling, lower heat, add coriander, season with salt, pepper and chili flakes (if using) and simmer until carrots and potato are tender.
Turn off heat and allow soup to partially cool, then add it to the blender and puree it.
Return to the pot, add grated garlic and stir. Warm it up again before serving.