Sinking Roots in the Perfect Farm-to-Table Community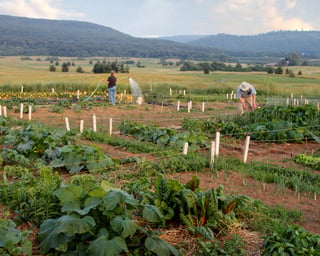 When Carolyn and her husband Bob decided to move from Austin, Texas, 18 months ago, they started looking for an agriculturally rich community, similar to the one they were leaving in Austin. Bob worked in the nursery retail industry and both he and Carolyn enjoyed growing organic herbs and vegetables in their 7,600-square-foot garden. It was more of a way of life for them—not just a hobby. "We both love growing plants and are pretty partial to great vegetables," says Carolyn. "We enjoy living in a place where we have outstanding healthy food close by."
Since Bob's family is located in the D.C. area, they began searching for communities within driving distance that valued organic food and had easy access to safe, reliable food sources. That led them to the Chambersburg area and Penn National.
A Farm-to-Table Community
"You have to drive through a lot of farms to get here," says Carolyn, which was their first clue they had found the type of place they were looking for. "Thousands of people in the area make a living from the farm and work to put good healthy food on the table."
Once she and Bob visited Penn National, they realized pretty quickly that it was a perfect fit. Penn National offered a community garden, proximity to an abundance of food sourced locally, and neighbors who embraced a healthy living philosophy. It also afforded them the opportunity to custom design a home with their dream kitchen, a greenhouse garage and enough space for a large garden.
On top of all that, the rural landscape is framed by a spectacular mountain panorama. "When I look over my deck, I see huge bales of harvested barley as well as apple orchards," she says. "The scenery around the area is a blend of the Italian Tuscan countryside and the south of France—it's lovely."
An Easy Way to Meet Like-Minded Neighbors
Carolyn and Bob wasted no time moving to the area, choosing to rent a place in Chambersburg while their home was built in the Penn National community. During that time, Carolyn met some of the Penn National neighbors working in the community garden, a patchwork of 28 plots on just under an acre of land. "It's a great way to meet people who are excited about growing healthy food," says Carolyn.
Carolyn and Bob are excited to take an upcoming landscape design course to plan their garden. The course is part of the Master Gardener Program in Franklin County, offered by Penn State Extension. They also intend to try their hand at hydroponic gardening and purposefully designed their garage with lots of windows and skylights so they could use it as a nursery.
The Heart of the House
Along with gardening, one of Carolyn and Bob's favorite pastimes is cooking. "We enjoy cooking with our friends—it's a big social activity," says Carolyn. "The heart of our house is our kitchen."
With a 30-square-foot island in the center and enough space around it for five or six people to cook at one time, their kitchen is frequently a hub of activity. Huge windows in the eating area off of the kitchen pour light onto a large farm table that fills up at dinnertime when friends and family come over.
"I knew that if we were to design and build a house, it had to have a really awesome kitchen," says Carolyn. "It was more than a dream."
First-Rate Local Food
When it's time to prepare family dinners, Carolyn and Bob have an abundance of local food to choose from. Besides having seven or eight fruit and vegetable stands within a five-mile radius, Carolyn can also shop at local farmers' markets and butcher shops that are well-stocked with grass-fed beef and pork. It's also easy to find free-range eggs for $2 or $3 a dozen—the signs are everywhere, she says.
Access to all the good food in the area allows Carolyn and Bob to eat as much organic food as possible and to stick to a healthy diet. They usually dine on fish, grass-fed meat or free-range chicken, as well as organic vegetables, while avoiding starches and processed foods.
Penn National also partners with the Healthy Eating Adventure, a community-based 28-day program that includes lectures, coaching, a "before and after" health screening, potlucks and other support to kick-start participants on a lifetime of healthier eating with a whole foods plant-based lifestyle. Although Carolyn hasn't yet participated in the program, it represents yet one more opportunity at Penn National to live the type of healthy lifestyle many residents aspire to. As Carolyn says, "The Penn National community certainly goes a long way to encourage interest in healthy eating and healthy living."
To get more information about what the Penn National community has to offer, request a free online brochure.