She Quilts, He Golfs – Why Penn National Is a Perfect Fit for Couples Like Nancy and George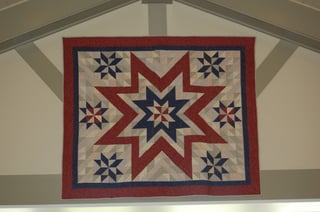 It was almost love at first sight for Nancy and George Bills. Once they saw Penn National and realized they could easily pursue their passions—quilting for Nancy and golf for George—they wasted no time in making the move from their home in South Jersey.
"I took a drive out and looked around and said 'This is it. My husband would love it,'" says Nancy, an ardent quilter, highly sought-after quilting instructor and patternmaker. She first heard about Penn National while attending a Quilt Odyssey conference in the area. "George came out here to take a look, played a round of golf, and about two weeks later we owned the lot. Twelve years later, we've never looked back."
Penn National is primarily known for its golfing and outdoor activities. After all, it's home to two nationally recognized golf courses set in a nature lover's paradise. But it's not so widely known that Penn National is also the center of an active quilting community. Not only is Penn National host to the 53-member Penn Needles Quilters group, there are three quilting guilds within a 20-mile radius as well as six quilting shops and a couple of sewing machine dealers.
Quilting Group Provides Easy Camaraderie
The quilting group has a strong social element, especially evident when it holds one of its semi-annual on-site quilting retreats at Penn National's clubhouse. Over a period of three or four days, the women set up their sewing machines and quilt from early in the morning to late into the night.
"It's great camaraderie," says Nancy. "We have a very cohesive group of quilters who live within a mile or two of each other and are all about the same age. We've been together for years and years and that adds something special to the experience."
Although the group has many long-standing members, they gladly welcome newcomers who have just moved into Penn National. "We always look forward to having new members join us, and we do our best to help them get active in the group," says Nancy.
Group members also work together on community service projects like making quilted pillows for a local nursing home or quilts for the Quilts of Valor Foundation. One of these quilts, designed by Nancy and worked on by four or five group members, hangs in the dining room of the Penn National clubhouse to honor the many veterans in the community.
Homes Tailored to Hobbies
Many Penn National residents custom design their homes with their hobbies in mind, just as Nancy and George did. Their front door leads to a long gallery hallway, which is lined with traditional quilts that Nancy likes to swap out seasonally. Nancy also made sure their home design included a dedicated quilting space, which is located in their walk-out basement overlooking her flower garden and the fourth hole of the Iron Forge golf course.
If you enter her studio, you're likely to see the beginnings of one of her creations on her design wall. The space is large and bright and contains a large cutting area, two sewing machines, a walk-in closet full of fabric, antique cabinets holding finished quilts and an antique dress form. "Everything I need is right here," says Nancy. "I could live down here!"
Top-Notch Golfing Experience
While quilting is Nancy's greatest passion, golf is George's. After he retired, he started playing about four days a week. Between regular foursomes and larger golf leagues, golfing at Penn National offers just as many social opportunities as the quilting group—for both men and women alike. In fact, Nancy and some of her group members have taken up golfing as well. Now playing with an 18-hole group, Nancy learned to play golf after joining Penn National's Goddesses, a group for women who have not played golf before. She also sometimes plays golf with her husband.
The Bills can play golf on the Founder's Course, a par-72 course featuring tree-lined fairways, large greens, sculpted bunkers and a seven-acre lake, as well as the Iron Forge Course, which offers 40-mile views of the surrounding Appalachian Mountains. They've played on many other courses outside of Penn National, but "it's rare that I'll like another course as well as Penn National," says Nancy.
While golf and quilting are two vastly different hobbies, the sense of community they help create at Penn National is strong. As Nancy says, "The beauty of Penn National is that we live in the same community and we all have a lot of the same interests."
To get more information about what the Penn National community has to offer, request a free online brochure.