Penn National Hosted its Newest Residents to say 'Welcome'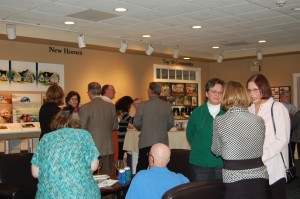 Penn National Golf Course Community's newest residents met and mingled over refreshments at the Penn National Clubhouse on March 14. Patti Nitterhouse and Dennis Zimmerman, developers of Penn National, hosted the reception along with representatives from the Support Network at Penn National (SNaP), Penn National Homeowners Association (PNHA), and Penn National staff members. Patti & Dennis offered a warm welcome to the thirty new residents in attendance.

Penn National hosts these events not only to say 'thank you' and 'welcome' but to provide a way for our new neighbors to meet people and to learn more about all the resources available to residents to make life easier and the transition to their new homes easier. For example, Deb & Dan Whaley explained the many benefits of joining PNHA (at only $20 per year), and SNaP's director Donna Crissman explained the wonderful support network staffed by helpful volunteers from the Penn National Community.

Chef Jason Suski of Founders Grille at Penn National Golf Club prepared a delightful assortment of light snacks including open-face cucumber sandwiches with lemon pepper, lightly baked Brie cheese with fig compote, homemade roasted red pepper hummus, and expertly presented fresh vegetables. All served with brewed iced tea, a chilled domestic Chardonnay, and an Australian Shiraz. Delicious!

New residents shared stories about their move and how they discovered Penn National, what attracted them to the area and what they enjoy about living here. Teresa & Malcom McNett moved to Penn National from Dallas, TX just a few weeks ago. They wanted to be closer to their son and family in Arlington, VA. When they arrived at their new home, they were thrilled when their Penn National neighbors welcomed them with smiles and homemade cookies, and they have already made many new friends.

Patti & Dennis are looking forward to meeting many more new residents at the "new resident reception" they are planning for the Fall!