But can I really learn to play golf when I retire? One Woman's Story...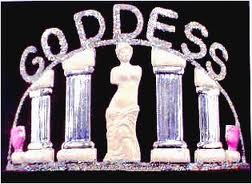 Many people think about learning to play golf when they retire but wonder--how do I get started? Who will I play with while I'm Learning? Am I just kidding myself? Well, here's the story of a Goddess, Joanne, in her own words...
"How was I to know that when I moved to Penn National after retirement from a full and active life in Maryland that I would become a Goddess and an addict (golf, that is) all at the same time?
I had never played golf before I turned 60 years old – in fact, had actively fought all attempts to get me to become a golfer. I had a laundry list of excuses – a job, four active children, and a large house. The game took too long, was too expensive and ….we all know that negatives.
Then we moved to this beautiful area of Pennsylvania. My back door new neighbor Kathy started talking about the Goddesses, a support group for women who had never golfed or were beginning golfers. Again, I smiled, humoring this potential new friend but my intent was to be a non-participant.
But my husband provided the final push – he nagged me so that I agreed to TRY golf for a summer with the PN Goddesses, but, I assured him, I wasn't going to like it and expected to quit after that summer. I soon realized with the help of the club's LPGA pro Lorraine Klippel that I could use the skills from other sports (hand eye coordination, etc.). When I told her that I couldn't turn that post-replacement knee, she showed me an alternate stance. I wouldn't be quitting anytime soon with this much encouragement and support.
The initial classes on rules, clinics on basics, and mostly the love and support I felt from the other Goddesses is something I value to this day. I became a reinvented better version of myself. The fun and team sports and the competiveness of individual accomplishment is all there and I LOVE it.
By the way, after one year in the Goddesses, I had improved enough to move up to the 9-hole group, but stayed on with the Goddesses as coordinator for an additional year. I had made many friends. After four years of playing golf I am now a member of both a 9-hole and an 18-hole group and have a golf game that does me proud (sometimes).
So here I am 65 years old, an addict to golf and proud of it, and don't forget I still like to be called Goddess.
Does this story inspire you to try things you've always wanted to do?